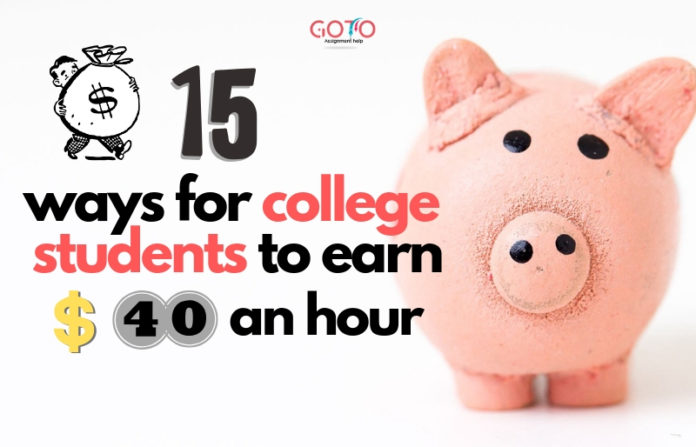 College days are exciting and excruciating at the same time. There is an abundance of activities you indulge in, and there are times you need an extra buck, to spend on the things you love. While many students steer their way through part-time jobs, some find it difficult regarding management with the spontaneous routine. There are several other avenues to earn money and build on some savings. Here are some pretty creative ways to make money as a college student. You might as well earn up to $ 40 an hour. Check out this assortment of 15 such jobs that you can take up.
You are already knee-deep into the world of academics at this point in your life. Why not turn your knowledge into income as a tutor? You can become a home tutor or provide online assignment help, if possible. All of us excel in one subject or other, and we can transform that knowledge and skill into something productive. Whether it be mathematics, science or arts- students seek tutors that will provide them with the right guidance. It is not at all necessary that you have to be a graduate in the field of education. You can be pursuing something different, and at the same time, possessing excellent knowledge on other subjects and matters as well. Being a tutor is a lucrative job, and you can earn pretty handsome.
If hitting the gym, is your favorite hobby or working out is what you are enthusiastic about, then this might be the best career option as well as a nice part-time job avenue for you. You can become someone's trainer and earn as much as $50 for one- or two-hour sessions. Also, this will keep your own body in good shape(and we all know that is always a plus in college). You can be a private trainer, as well as associate your services to some gym. In both cases, you can earn pretty well for yourself.
Everyone nowadays has a hang of the word 'freelancer,' but few possess the required talent and essential skills to become one. You can give this profession a try. Several companies hire freelancers. You can get a work from home or even a part-time office job. Freelancers earn per article. It's the buzz of the writing industry. Freelancing might be a just a job for you today, and may later turn into a full-fledged career.
If computer science and information technology are your playmates, then designing an application for working over the look and feature of some company's website, is what you can rightfully do. Application owners and buyers offer huge sums of money for the hard work you have put in.
For people with a knack for organizing events, and handling arrangements well, assisting an event manager, or an event management firm, is not only exciting but lucrative at the same time. These managers charge a hefty amount form their clients, and you can get an opportunity to earn some handsome cash.
Nowadays yoga is the trend. With proper knowledge and sufficient training, you can even teach yoga in your free time. You can either give weekend classes or evening classes/ morning classes on weekdays. Many people like yoga sessions. This can also help you earn good cash and enjoy your activity at the same time. People celebrate international yoga day, and you can provide some mass sessions for free on such occasions to gain popularity.
A lot of publishing firms, online assignment help services, and organizations need people to see through their texts and scripts, and sift out the minor glitches and errors. Not only you earn cash this way, but you also get to read a lot of interesting books and scripts about several genres. To be a proofreader, you need to know your language well, with the proper grammar rules and syntax.
If you are well affiliated with more than two languages and have in-depth knowledge about them, the world of translation needs you. Translation jobs can be work from home or part-time office jobs. Translators can make good enough money, with a little effort. There is an immense demand for translators for German, Russian and French languages. However, nonetheless, languages like Hispanic, Latin, Irish Gaelic, and several others which are less spoken, also needed many translators.
If you are into the hospitality culture and serving people interests you, you can be a barista at well-known cafes and beverage chains. Starbucks, café coffee day, etc are options for you. You can not only make money but also enjoy the expensive cappuccino, latte, and mocha, to your heart's desire. If you want to earn some extra bucks as a barista, you can be a shift supervisor as well. However, being that comes with experience.
Being a party entertainer or a general entertainer needs a lot of patience and skill. You have to perform amidst people and make them tune into your rhythm. Party entertainers are called usually for birthdays, get-togethers, reunions, etc. you get paid for an hour or two hours, so the job is not stretched over a long span of time, and you also make good money.
Manufactures and producers of handcrafts
You may excel in some particular form of art; if that's your bid, then you can make your craft items and turn them into a money machine. You necessarily do not need to own a company or create an application for that. All you need is the right set of skill and a team of 2 to 3 members who can help you with the artistry work, packaging, and selling, etc.
Part-time research projects
Several professors pay students as assistants for their part-time research projects, assignment help online. This way you earn and learn. You can take up the job of assisting a professor working on a project that caters to your interest.
Several cafes and bars and nowadays even media platforms pay singers who do a part-time singing job. You do not need to be professionally trained; all you require is a good sense of music and the right voice. If you are gifted with singing talent, and you have finesse for music, then this can be a pretty interesting job for you.
Part-time photographers are also known as freelance photographers. You can affiliate with some photo studio, or contact an event management firm. Individual business as a freelance photographer is also great. You can set your bid and work independently. Also, many production companies hire part-time photographers, as full-time photographers demand more money. You surely need good photography skills for becoming a freelance photographer. Moreover, if you have the added experience and knowledge in videography, then you can even assist cinematographers in documentaries and short films. Advertisement careers are also an option for you.
Since many people do not hire wedding planners or event planners, they go for a low budget option. They would rather spend some thousands on a student who pursues dance and is a part-time choreographer than go for the fancy and expensive names in the choreography industry. You need prepared tutorial videos since you have to advertise and pitch the idea to your clients. You can earn quite well, as dance is what all events necessarily have. Along with your job, you will enjoy the activity in itself.
(Visited 138 times, 1 visits today)