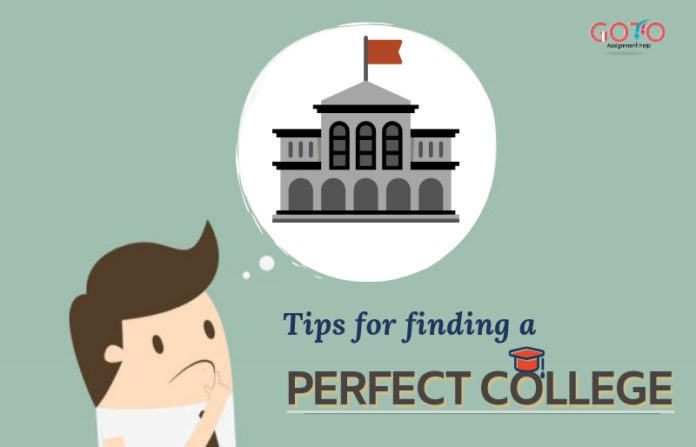 Finding a school that fits you—truly fits you—is the secret to college success and when you find your college match, everything else tends to fall into place. But, the hunt for a college doesn't have to begin and end with the popular ones that are famous for their brand names. There are a lot of schools out there, some more popular and known, some less known. There are many colleges worthy of your attention that might be better for you than those popular colleges.
So, we have compiled the ultimate college guide to help you make the choice.
1. Why Do You Need a College?
Examine and evaluate yourself to find the reasons for going to a college before you begin with your search. Start with the questions like what do you want from your life? What do you picture yourself doing a few years down the line? What can a college degree provide you with?
To answer these questions, you can take the help of family, friends and even counselors. However, the end decision should be yours as you know yourself better than what other people know about you.
2. Public college vs. Private College
You may apply to the combination of public and private institutions. However, it is important to note that these two differ at various levels as public universities are usually cheaper than the private universities. Public universities often have a large number of enrolments and bigger class sizes. Private universities have a close-knit community of students.
3.Urban vs. Rural
You can think about the type of environment you want yourself in for the next few years. The surrounding community of college can also be a deciding factor. An isolated environment might not be safe to be in. If you want a college situated within nature, you should probably consider a college in a rural setting. Colleges like that generally have big campuses in a rural setting or outskirts of the city, away from the crowd and traffic. Many universities also offer a variety of both environments. They have a defined campus area and are still close to the city. The student community mixes freely in urban colleges.
4. Small vs. Large
This factor is inter-related with the public-private point explained above. Some private universities are the same size as the public universities while some are confined to a single building. If you can feel comfortable in a small community and it does not affect your decision, you should look at the smaller colleges first. If you want a college where you meet people from more diverse backgrounds, you should have a look at the bigger colleges first. It is obvious that the more students there are in the college, the bigger the classrooms and dining halls will be and vice versa.
5. Close vs. Far
Figure out which person out of the following two factors defines you. A person who cannot wait to get away from their family and start a life independently or a person who is reluctant to leave and want to continue studies from home. This is important to decide because you don't want to choose a college that is close to home or far away from home and regret it. Moving to a new place can be scary and isolating in the beginning. Consider all the work you need to do on your own while leaving away from home like washing dishes, doing laundry, cooking, etc. So, it's important to understand what matters to you.
6. Academic Environment
This factor mainly involves the criteria of students that are selected to join a particular college. The type of students that attend the college plays a vital role in the decision making. The methods of marking, exams structure, tests and many other things to understand if you are capable of doing so.
You can research the professors and their teaching methods. Students get individual attention from the teacher or not. If it is really important to you that you get the individual attention and have a strong relationship with the mentors, you may want to consider a college that emphasizes on the teaching and spend more time with their students.
Facilities and amenities provided by the college universities also play a major role in deciding the right college. The art and craft studio, computer lab, library and several other resources that you need to pursue your interests. You can find it all on the website of the colleges.
7. Program Strength
This is one of the most important elements in deciding the best college for you. Look for the colleges that offer the best programs that you want to pursue. Have a look at the major courses and programs offered by the college and the course curriculum with its content.
If you are still doubtful and unsure about the program that you are interested in, seek for colleges that offer generalized programs and courses so that you have the option to explore several subjects. You can also have the opportunity to figure out what subject excites you the most and plan for higher education with a specific focus on the subject of your interest.
8. Social Life
Social life is important at all the stages of your life. You don't want to go to a college that is dominated by parties or one that is all about studying at every point of the time missing any entertainment. To figure out this aspect, you can look at the student reviews on several websites for the colleges before making up your mind. The student reviews can give you complete information regarding the social scene of the colleges.
There are various websites available online that offers the student reviews about almost every college. There are tons of reviews on subjects like overall student happiness and life.
9. Extracurricular
If you excel in one or a few extracurricular activities before going to college. You must continue them after attending a college. You should keep a check on the extracurricular activities and opportunities offered by the colleges. Every college has a predefined list of several activities like student clubs, sports available online on their website.
10. Diversity
Whether a college is small or large, there are no specific criteria of colleges available to define the diversity of students. Both of them can have people from diverse backgrounds with an impressive life experience. Colleges often provide you with information regarding the ethnicity of their current students and the number of international students studying in their institution. The male/female ratio should also be considered as it shows a certain type of mentality of the administration. Some colleges offer an equal ratio of both the genders.
11. Affordability
Most of the students rule out some good options for the colleges because of the cost. In that case, you can look for the colleges that offer strong merit-based admissions that guarantee the financial support throughout the studying period. You can contact the college to consult on the statistics on financial aid. Many colleges offer an online financial aid calculator on their website that helps you to understand the affordability and set up your expectations accordingly. You can also collect some information regarding the scholarships provided by a college to supplement your finances. There are various institutes offering scholarships by exceptional performances in the extra co-curricular activities. Find out all the available options from the financial aids, your parent's fund, scholarships, student loan and choose what works best for you.
Once you find the college of your dreams buck up and study hard. Knowing How to Ace Your University Exams is another challenge altogether. As for assignments after you crack your entrance exams, there is always our online assignment help and assignment help online services to lend you a hand.
(Visited 228 times, 1 visits today)