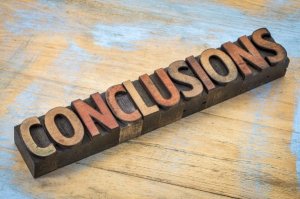 In school, universities and other academic institutions students are given assignments to work on- it can be reading a book, writing an essay, producing a review of a movie that you watched recently or visited someplace during summer vacation etc. Assignments can be regarding anything. Teachers mark the students with grade 'A' only when the essay starts and ends well providing all the necessary information.
Constructing a good beginning and conclusion is difficult because it requires a lot of time, effort, and skill. The introduction of the assignment should give a clear notion of what the assignment is about. The concluding must end briefly as it defines the whole topic. A good conclusion strengthens your argument and summarises how you have proven its validity.
General points to remember
To write an interesting essay, your content must be according to the above-discussed points or else contradictory points can show that you have poor writing skills. Try to bring more effective thoughts to support your argument and have a critical approach throughout your essay.

1) Summarise it properly: Summarise your argument and highlight the main point. The main idea is to satisfy the reader by putting the argument forward, stating facts or theory to prove your point. All this must be done briefly and not with a lengthy paragraph. The essence of every paragraph must be written in short and discuss them to the point instead of beating around the bush.
2) Asking questions:Some writers make their entire essay just about giving information to the reader. Ending your argument with a question is a good way of making a reading stick to the topic.
3) Accuracy:Aim for accuracy and originality of your conclusion. If your points are equivalent to the previous ones you must provide the reader why your research and arguments are original.
4) Make it interesting: Don't make your assignment boring by simply talking about facts. Add some interesting anecdotes or examples. Nobody likes to read a vague and plain assignment, add elements that will lighten as well occupy the reader.
5)Use simple language:One thing that everybody must keep in mind while framing an effective conclusion – use a simple language. In order to make your assignment look high-ended, simple language is suggested and not the high quotient language.Using a flowery language without any knowledge of it will simply create a poor image of your grammar skill. Before using any jargons do a proper research and understand in which context it can be used.
6) The sense of balance:Conclude your sentence so that it is compound or parallel in structure. Such sentences can initiate a sense of balance or order that may feel just correct at the end of a complex discussion.
7) Give Warning:You need to archive it in your mind that inducing bright image can increase the interest of the reader. If your script is based on instructing or spreading awareness give proper warning to the readers.
8)Meaningful ending:End your scripture on a positive note. Do not depress your reader on some tragic incident that you plan to add at the end. The word " conclusion" very well states- producing suitable settlement or closure to your arguments and not ending it on an incomplete note or on a negative thought. Readers like to see essays ended in a meaningful way.
9)Universalise: Compare or differentiate your ideas or your main argument on the basis of something that the reader can relate to. Try to make a connection.
10) Suggest results:Your conclusion is based on what your topic is and what kind of main ideas and points you are going to put forth. Indicate the effect your idea can bring if supported.
11) Conclusion based on topic:Every assignment that you write needs to be ended properly but it often depends on the subject matter of your essay. So if it's a literary paper – end it with reference to a book that was noteworthy and paint a picture with sensory details.
Points that you must avoid:
To write an effective conclusion you must avoid thefollowing steps:
*Don't simply summarise your essay. Summarise and put your main point forward if your essay is long. Short essays do not require a restatement of your main ideas.
*Avoid phrases like " to conclude " or " to sum up ".
Such phrases are used in oral representations. Readers can see when the assignment is about to end by the number of pages. You'll irritate your readers if you hit the obvious.
*Avoid apologizing for your opinions or views by saying " I may not be an expert" or " at least this is my opinion". The readers, in the end, will feel as though they have wasted their time on something which does not give them accurate information simply because the writer isn't confident of what he/she has expressed.
*Don't focus on minor points of less importance, concentrate on the bigger points which have an impact on your assignment.
*Avoid using harsh words and informal vocabulary.
*Avoid repeating phrases or words.
*Avoid incomplete sentences. Your closing statement should help the reader feel a sense of closure.
*Do not include new arguments, ideas or information that is not related to the topic in the conclusion.
* Many writers fail to meet the objectives of the essay that they are writing. Try stating those points that meet the objective of your essay. Don't let your essay dangle in ambiguity
(Visited 1,815 times, 1 visits today)