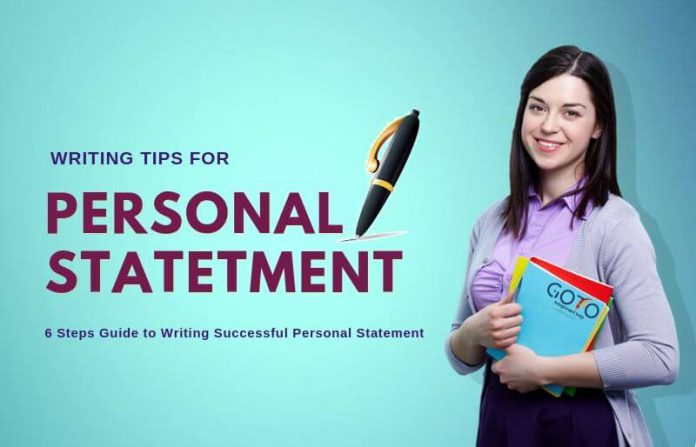 A personal statement becomes a critical element in the decision-making process when it comes to deciding whether the university should offer you a seat or not. It is an opportunity for you to sell your strengths and prove yourself beyond your grades and scorecards. However, a personal statement can be tricky if you do not have experience in writing one. An impactful personal statement requires you to keep a check on your tone while avoiding any language errors and effectively structuring your content.
It is essential to remind yourself that a personal statement is different from a statement of purpose. This is so because a statement of purpose tends to focus more on your professional or academic credentials and your future research plans. On the other hand, a personal statement puts light upon your goals and passions and what you plan to bring to the table if you join a particular course, program, or university. One of the key differences between both is that you get the chance to be more personal in the latter.
If you are looking for tips to write a strong personal statement, then read along.
1. Having A Memorable Introduction
It would not be wrong to deny that one of the hardest parts in writing a personal statement is deciding how to begin. You may want to use a personal incident to put forward your strengths or the passion for the subject.
2. A Clear Narrative
Your statement showcases your clarity of thought for achieving success in a graduate school. Therefore, it becomes imperative to ponder upon the key points that you want to communicate and drill down upon them in your statement. Decide whether you wish to mention the gaps or setbacks in your academic career.
You may also want to justify why you had low grades for a couple of semesters. If you had made a switch in terms of your academic or professional life, then you should mention the explanation for the same. The underlying principle should be to demonstrate your positive qualities like diligence and resilience rather than providing excuses for your past acts.
3. Give Specific Examples
Getting specific in a personal statement helps in illustrating the key message you intend to put forward. You may want to refer to anecdotes that demonstrate particular traits of your personality, or you may even want to make references to scholars and experts that have inspired you in your academic trajectory.
For instance, mentioning "I love plants" is vague. Ideally, you should describe how you researched and worked in a plant lab during your under-graduation years and then went home to cultivate your greenhouse carefully and crossbred a new flower colour.
Adding evidence helps you in making your argument much more authentic.
4. A Good Fit
A successful personal statement will help you in describing why you are the perfect fit for a particular program and vice versa. It is important to highlight specific things about a course or a program that appeal to you and how you plan to take advantage of the opportunities that come your way. You may also mention about specific professors you aspire to work with. Doing so will showcase that you are informed about the institute and genuinely interested in the program it has to offer.
5. Strong Writing Skills
If you want to leave an impression in the mind of the reader, then your statement should showcase your persuasive writing skills. Make sure to communicate each point clearly, and your content is free from spelling and grammatical errors. You may also want to consult your colleagues, peers, and teachers for their valuable feedback.
Another vital point to keep in mind while writing a personal statement is to stay away from cliched notions and gimmicks. Stay away from deploying overuse phrases and opening lines like "ever since I was a child," etc. Avoid making your statement gimmicky because doing so will make your writing banal and will make you stand out in the wrong way.
6. Appropriate Boundaries
The key to writing an impeccable personal statement is to maintain appropriate boundaries in your writing. You should know when not to overshare your relationships, illegal activities, or bodily functions. At the same time, do not share anything that projects you to be out of control or generally a risky investment.
Always keep in mind that a personal statement is not a confessional booth. You should also have a good enough understanding of deploying humour and jokes to your advantage. On the other hand, your personal statement should not be earnest and dull, and you should strive to make it engaging for the reader.
The above pointers will certainly help you in writing an effective and successful personal statement.
Bonus tip: While being professional is essential, strive to be conversational in your statement.
If you are still struggling in writing a personal statement, then you should seek professional assignment help online and support from GotoAssignmentHelp.com. Their team of industry assignment experts is ready to assist you with various samples and templates with 24/7 service at budget-friendly prices. You can bank on their expertise for timely delivery of your personal statements and much more.
(Visited 428 times, 1 visits today)