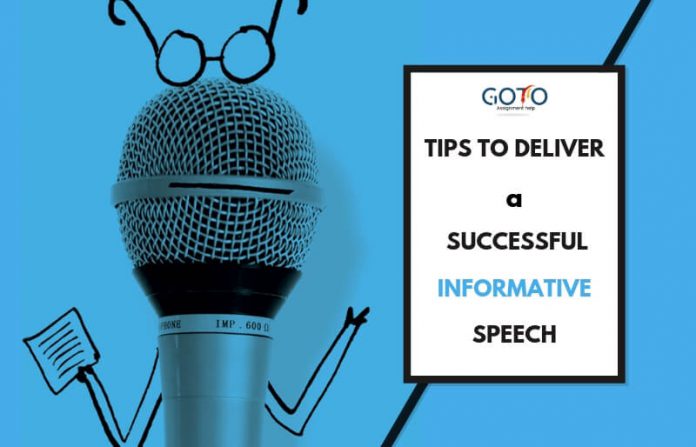 When delivering an informative speech, your objective is to enlighten and educate your audience on a particular subject. This type of speech involves the use of demonstrations, descriptions, definitions, and details to explain a topic, person, or place. One of the critical aspects of an informative speech is to make a complex issue easy to understand while offering different points of view for the given problem statement.
Informative speeches have four types, namely, explanatory, descriptive, demonstrative, and definition. While an explanatory speech is used to give an insight into the state of a topic, a descriptive speech helps the speaker in creating a clear mental picture regarding a specific subject in the minds of the target audience. Demonstrated speech explains how an action should be performed, and definition speech goes into the depth of a topic with more of conceptual explanation and understanding.
So, if you are in search of tips to write and deliver an engaging and successful informative speech then read on.
1. Explain your thesis
First of all, once you have narrowed down upon the topic of your speech, the next step is to form a thesis. It is a single sentence that explains what you are going to talk about. While outlining your thesis remember to keep your audience in mind. To deliver an impactful informative speech it is best to work under the assumption that your audience knows nothing about a particular topic. Therefore, prepare some background data and information using historical facts and incidents to educate your audience at the primary level.
2. Outline the structure of your speech
In an informative speech, it becomes imperative to present arguments in a systematic and well-organized order. Each of the paragraphs should transition smoothly while keeping your audience engaged.
Draft out an impactful introduction. You may also start your informative speech on a light note before drawing your audience into a more serious discussion. The introduction paragraph is followed by the main body which forms the central part of your speech. It is here where you explain all the arguments with extensive details, facts, and figures. Lastly, your conclusion should elaborate upon the intended plan of action. Keep in mind that the tone of your conclusion is similar to the tone of introduction.
3. Ask the audience for feedback
Once you have completed your informative speech, it is a good practice to open the floor for discussion. Doing so not just helps in resolving the doubts and queries of your audience but also helps you in collecting feedback about your speech. You can also ask the audience to comment upon your writing, speaking, and presentation skills to be taken care of in future projects.
4. Quote authentic data sources
Informative speeches require extensive use of data, facts, figures, and statistics. To increase the credibility of numerical data, it is a good practice to mention the sources from which you have gathered the information. These sources could be names of websites, books, journals, newspapers, audio books, etc. It is also recommended that you perform primary and secondary research of your own to make your arguments much more convincing.
5. Work on your presentation skills
It becomes essential to adapt to the behavior of your audience. Therefore, you may increase the pitch and volume of your voice to grab attention to important points of consideration. Making use of facial expressions and body gestures help in increasing the impact of your argument. Make sure to practice the speech to avoid last minute anxiety and nervousness. You may also want to increase or decrease the speed of your address depending upon on the argument you are putting forth.
Practice in front of a camera, mirror or take assistance from a friend or colleague once you have memorized the speech. For this, you may record yourself and ask for a second opinion from a relative. Ask them to point out spots where they felt the speech was getting dragged or seemed disorganized. Seek constructive criticism in body language and communication skills.
6. Wrap up your speech effectively
Once you are done delivering an informative speech, make sure to thank people for making out time from their busy schedules and for coming to listen to you. Even if your audience probably feels that they did not learn anything new in your speech, they will remember you as a speaker who radiated a positive attitude.
Tips for Informative Speech
Informative speech generally gives an idea about a particular topic, events, people, places, things etc so that the audience can gain more knowledge regarding it. You have to inform the audience in such a way that it may give them a wide effect to do that particular work. But while speaking you need to be careful about some tips that are mentioned below.
Before taking any step, analyzing is important. Suppose if you talk about engineering to an engineer, he/she will definitely understand this, but if you deliver your speech to a common man, who doesn't have any idea regarding it, your all effort will go in vain. So, before giving your speech, don't assume that your audience knows everything.
If you find your audiences are highly educated then you can use jargon easily in your speech, but if you find your audiences are not familiar with those words, then try to explain it in simple sentences and words.
Before delivering your speech, you need to make them understand the importance of your speech. How it can change their life so that audiences can relate it with their lives.
While speaking you need to be specific. But don't explain it in such a way that it may feel monotonous. So, explain it with every possibility so that it may give interest to the audiences.
How Can You Deliver an Informative Speech?
As you have made your speech now you need to focus on the delivery process. The success of your speech depends mostly on delivery. If you are able to throw it properly, your half work is done. Below we've listed the process of delivery of informative speech.
While speaking, remember that your main goal is to give the message clearly so that it may give a wide impact in the mind of the audience.
Before delivery, brainstorm all the ideas and necessary points that you want to deliver or to inform your audience.
You need to focus on those key points that you want people to understand properly and remember it for a long time.
Don't use a lot of key points at a time. Remember that people don't remember anything and sometimes two or three points at a time. So, don't choose more than five points at a time.
Don't continue your speech for a long time, otherwise your audience may feel bored. Don't drag any point for a long time. try to finish your speech as early as possible and of course it contains necessary information. Try to avoid too much information at a time.
Before your final delivery, you may practice it at home in front of a video camera. It may increase your confidence level.
What does it Take to Effectively Deliver an Informative Speech?
Through an effective informative speech, the speaker needs to aim on his or her goals that he/she wants to convey. Through the speech he/she will explain the subject in such a way that will help the audience to understand it properly and will give a wide impact for the future.
You need to deliver your speech in such a way that the audience can easily relate it with themselves and keep it in their mind for a longer period. If your speech can relate with some emotional appeal so that your audience will continue to talk about it for a long time.
Your speech must give detailed information so that it may grow an interest in readers' minds.
Your speech shouldn't contain such a wide range of information that the audience is left wondering to understand it. So, be careful while preparing your speech.
4 Tips for the Conclusion of an Informative Speech
According to our expert assignment helpers in Singapore, here are four elements that will make your speech highly impressive.
Your conclusion must be as powerful as it can be. While preparing your speech, you must plan it word for word. Your speech must give satisfaction to your audience. It must end with a result that your audience wants to hear.
You must end your speech with a summary. Before speaking, prepare the speech as a formula so that you can put it properly i.e., tell your audience what you want to inform them through your speech. At the end of your speech, you may briefly restate these points.
To make the conclusion in a different way, you can transform the speech into a story, and surely it will give a more positive impact on the mind of the audience.
Don't make your speech boring. Your speech must contain some humor. You may crack some jokes too.
The above tips will certainly help you in delivering a successful, informative speech. Lastly, be sincere. Diving deep into the topic will help in improving your comfort level in the subject. An informative speech should be highly relevant and useful for the target audience and it, thus, becomes essential that the content you are presenting is highly personalized. While explaining a complex topic in easy words, it is vital to avoid unnecessary jargons and creating a connection between various arguments.
Above all, writing an informative speech could be a challenging task, and it becomes imperative that you seek professional assignment help for the same. GotoAssignmentHelp provides 24/7 assistance in writing informative speeches at pocket-friendly prices. You can bank on their team of industry experts for writing effective speeches backed with credible data sources.
(Visited 8,739 times, 4 visits today)