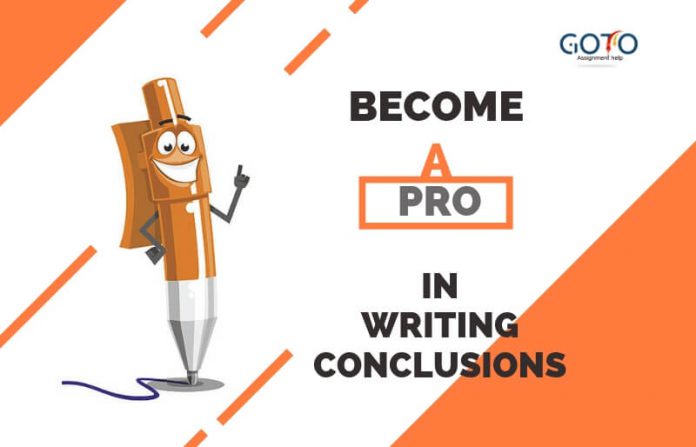 The conclusion is the most critical part of an assignment, essay, or a speech. It is here where you summarize all the main arguments. A conclusion is the last chance for you as a writer or a speaker to convince your audience of your thoughts and points of view. It is essential to keep in mind that the impression you create through the conclusion of your work will determine what your audience will take back with them.
The end should always convey a sense of closure and completeness while explaining the broader meaning of the topic and its implications. A conclusion demonstrates to your audience that you have accomplished what aspired to. So, while proving your thesis, make sure you leave your audience thinking and inspired in conclusion.
Here are some tips for you to write an impactful conclusion.
1. Wrap up your work with a quotation
Ending your essay with a citation or a reference to a primary or secondary source helps you in amplifying your main argument and putting forth a different perspective. Using a couple of lines from a novel or a poem will help you in adding texture and specificity to your main argument. Similarly, words from a critic or a scholar can help you in reconfirming or refuting your final point of discussion. However, it is vital for you to be cautious about using secondary material and making sure that you get the last word.
2. Redefine one or few of the critical terms of your argument
Simply restating your thesis statement can lead to redundancy. Instead, pick up some keywords and explain them with the fresh and deeper understanding. These keywords should demonstrate the importance of your ideas and the point you are trying to prove.
3. Leave your audience thinking
While writing a conclusion, it is essential to consider how you want your audience to feel once you are done delivering your work. You may call them to action, or end with a warning or evoking an image. You may also make your essay or speech more relatable to your audience by comparing the topic to something universal. Here your objective should be to demonstrate why the issue on hand is significant and needs to be dealt with. Predicting as to what could happen if your ideas are implemented is another option.
4. Take help from your instructor, mentor or guide
If you are writing a conclusion for the first time or if your topic is complex then taking advice from someone senior could prove to be helpful. Your instructor will not just help you in clarifying your doubts but will also help you in writing impactful conclusions. Your facilitator may also provide you with different formatting instructions and samples for reference. It would not be wrong to deny that your instructor will help you in doing justice to the conclusion of your paper, essay or speech.
5. Avoid using clichés
It may be tempting to use cliched terms like "in conclusion," however it could be a big turn off for your audience. If you are keen on using an introductory phrase in the conclusion paragraph, then you should make use of stronger terminology like "based on the evidence" or "ultimately." Starting your conclusion with words like "since," "although" and "while" are also options you can consider. This implies that you should avoid phrases like "to conclude," "in closing" or "in summary."
6. Connect your conclusion to the introduction
There will be certain features that will be shared by the introduction and the conclusion of your assignment, essay or speech. For instance, if you start your introduction by mentioning your thesis statement, then you can begin your conclusion by revisiting the statement. At the same time, it is a wise decision to refer back to the information, data, facts, and figures and the ideas you presented in the introduction part of your essay. Many people start their essay or speech with an anecdote or a question. You may want to bring it up in conclusion.
7. Avoid introducing new information
Writing conclusions could be tricky just because you don't want to repeat yourself; however, at the same time, it is crucial to ensure that you do not bring in any new information. You may want to read over your conclusion to ensure that you have not introduced any unique point of view or a piece of new evidence. Everything that has been mentioned in your conclusion should have been discussed in the main body of your work.
The above pointers will certainly help you in preparing effective conclusions. Your ultimate goal while writing the conclusion should be to deliver more than what your audience expects from you.
Bonus tip: you may clarify some of the doubts and queries that your audience may have at the end of the conclusion.
If you are facing challenges in writing an effective conclusion, then you should seek professional support from GotoAssignmentHelp. Our team of certified experts are passionate about writing and education and are willing to assist you in all types of assignments, essays, speeches, etc. We provide 24/7 assignment help service at budget-friendly prices.
(Visited 229 times, 1 visits today)