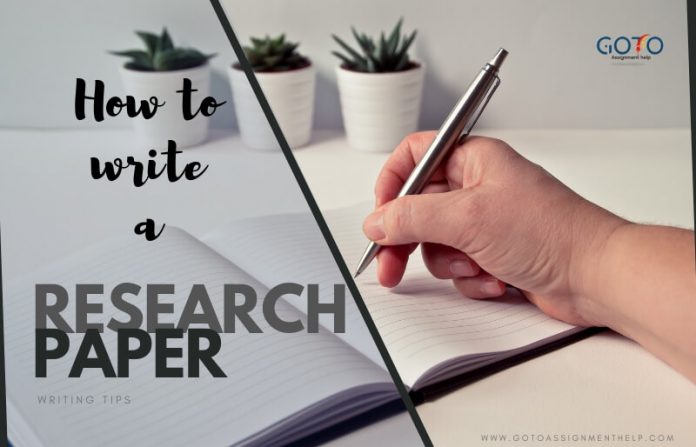 A research paper refers to academic writing that consists of the author's original research followed by an explanation of key concepts and interpretation of significant findings. It could be in the form of a doctoral dissertation, term paper or a master's thesis. Research papers play a vital role in a student's life because they help in exploring and identifying societal, technical, and scientific issues.
If it is your first time, then it may turn out to be a daunting task; however, with a well-defined process, writing a research paper could be easier. Below we discuss a step-by-step strategy for writing successful research papers.
1. Start with a research process
The research phase helps you in delving deep into the topic and having a profound understanding of the subject. Research not just helps you in formulating ideas for your paper but also helps in developing a thesis and speaking about the problem at hand with authority. In this stage, your primary focus should be to refer to as many resources as possible and review them extensively.
These above resources could be in the form of online and offline encyclopedias, databases, books, newspapers, periodicals, and government publications. As you go through the information, remember to take notes and keep track of all the different sources so that you can refer to them regularly and cite them in your bibliography at the end of the research paper.
2. Organize before penning it down.
When you are done with the research, do not start writing the research paper immediately. Organizing your essay is critical to its success. In the absence of it, your paper will not just lack focus, but you will end up spending more time on the revision process to make sense out of jumbled thoughts.
2.1 The thesis statement
It is a sentence that summarises the main point you are trying to put forth in your essay. It also gives a review of the supporting points guiding your audience right from the beginning of the research paper. Generally, an introductory paragraph is followed by the thesis statement.
Research papers can be divided into three categories and understanding this classification will help you in streamlining your thesis statement. If your paper presents an analysis of data and information, then it is referred to as an Analytical Research Paper. However, if you are explaining a concept, then it is referred to as an Expository Research Paper. Lastly, if you are trying to argue for or against a notion, then your paper falls under the category of Argumentative.
2.2 The outline
Before you start writing, finalize and organize your thoughts in a framework. Include all the points that systematically support your research and eliminate all the information that is irrelevant to your research. Brainstorming and outlining of the research paper and sticking to it will help you remain focused.
3. Get into action
Once you are done with your research and finalized a framework, it is now time to start writing your research paper. Your paper will be divided into three parts, namely, introduction, body, and conclusion.
Firstly, in the introduction, your motive should be to set the context for the rest of the essay. It is imperative to remind yourself that just because you are writing an academic research paper, your content does not have to be boring. In the introduction, you should try to explain the purpose of your paper and the approach you have adopted for the same. You may also specify the structure that you are going to follow in the rest of the research paper.
The introduction is followed by the body where the outline or framework comes in handy. While writing the central part of the essay do not let the sources organize your paper. You may use the rule of three while presenting your arguments in the main body. The rule of three states that you find supporting points for each argument, in a manner that a strong argument is presented first followed by an even stronger argument and end it with the strongest of all.
Lastly, you need to focus on the conclusion and wrap up your research paper. Here you are required to reword your thesis and summarise the points mentioned in the main body without bringing in any new piece of information. In case your research is inconclusive, you may want to explain why this topic requires more extensive research in the future.
Before you submit your research paper you may want to check whether the ideas flow in a logical sequence, all redundant details have been eliminated, and you have checked for accidental plagiarism. You should also ensure that your language is clear and free from grammatical errors and punctuation mistakes. The above tips will certainly help you in crafting a winning research paper.
If you are still confused about writing a premium quality research paper, then you should seek help from GotoAssignmentHelp PhD experts. Their team consists of industry stalwarts and subject matter experts who can help you in all types of academic writings. You can bank on their services at the best rates.
(Visited 455 times, 1 visits today)