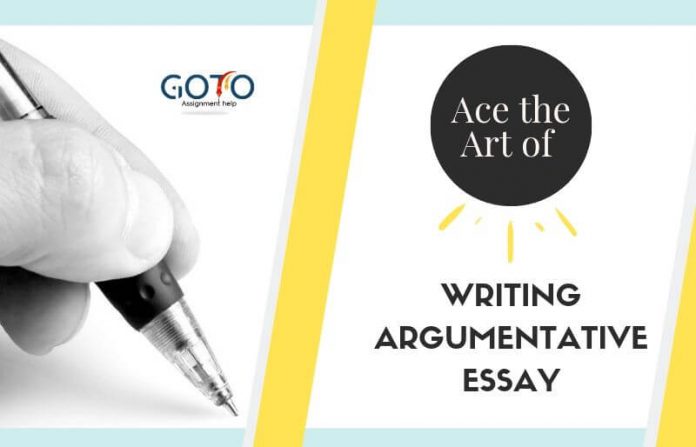 The argumentative essay explores a genre of writing that needs the student to indulge in an extensive investigation of a topic and convince your audience for or against the motion by collecting and evaluating evidence. It is crucial to remind yourself that the argumentative essay is different from an expository essay. This is because the former requires extensive research of literature or previously recorded material and published data. The students can also collect data through various other ways like surveys, experiments, interviews, and observations to come to a final decision. It also helps the student in learning about the topic and generating different points of view helping him make a wise decision.
On the other hand, expository essays are used in-class writing exercises and tests and therefore shorter in length requiring lesser research.
If you are in search for guidance on how to get started with an argumentative essay, then you have come at the right place.
1. Start with an enticing point
You need to take care of the introductory paragraph which should be written around your thesis statement while providing a brief background. Mentioning an impressive statistic or referring to a quote or a personal anecdote can help you effectively engage your audience. Many people tend to start with a question also. No matter what technique you use the first sentence of your essay should draw the reader in and get him or her thinking.
1(a) State your thesis
The background in the introduction should make a smooth transition into your central argument.
1(b) Give a very brief insight into your evidence
While introducing your essay make sure to state the main arguments backed up with relevant evidence. However, avoid going into too much detail and leave the same for the body paragraphs.
There are various other exciting ways to introduce your ideas in an argumentative essay. These include telling a true story, depicting a hypothetical situation that explains the problem, comparing and contrasting, etc.
2. Outline your work
Argumentative essays tend to have a straight forward approach in their organization. You start by pulling in the interest of the audience and making them intrigued into what you are trying to say. Then follows a proper explanation of the controversy or the problem in hand and different sides of the debate. After that, you indicate which side do you stand by and convince your audience why it is the best decision to make using relevant and authentic data. In here, you are required to defeat any objections that may pop up in anyone's mind.
Basically, your objective should be towards your audience to adapt your thinking and point of view.
3. The body is of central importance
The body of an argumentative essay generally consists of 4 to 5 paragraphs each of them presenting a new and separate piece of evidence supporting your claim. One of the hacks to delivering a stronger argumentative essay is by stating opposing arguments and refuting them. If you want to convince your audience of a particular claim you will be having 4 or 5 reasons for the same. These reasons are nothing but the topic sentences for each of the paragraphs in the body of the essay. You need to support each of these reasons with examples, authorities, statistics, and logic. Most importantly, all these reasons should seem plausible and connected systematically.
In the body of the argumentative essay, you are also required to anticipate the opposing arguments that may come up in your reader's mind. Make sure to address them in the body of the essay.
4. Wrap it up with the conclusion
The conclusion not just summarises your entire piece of work, but it also mirrors the introduction in many ways. In this part of your argumentative essay, state your thesis statement and pull the attention of your audience towards the main argument without going into the facts and figures again. It would not be wrong to deny that the conclusion ties the whole piece together. When you are coming down towards the end of the essay, make sure not to present new arguments and instead focus on inspiring your audience to think the "big picture." Presenting hypotheticals and showing your audience what may or may not happen if your argument is not followed is another way to conclude your essay. The key to writing a successful conclusion to an argumentative essay is including a call to action and appealing to the reader's morals, emotions and instincts at the end.
The above steps will certainly help you in writing a successful argumentative essay. There are basically four main characteristics you need to keep in mind while writing an argumentative essay. These characteristics will also help you in writing an attractive essay. These are CDRM, that is, your essay should be Current, Debatable, Researchable and Manageable. If your essay lacks any of the above characteristics, you may end up with an essay that lacks passion.
Are you tired of endlessly writing argumentative essays? Do you need quick help with formatting? Then you should seek professional assistance in varied argumentative essay topics from GotoAssignmentHelp.com. They are trusted by many students for their mastery in writing style, academic discipline, and research methods. With GotoAssignmentHelp you are guaranteed the best essay help services at reasonable rates.
(Visited 354 times, 1 visits today)