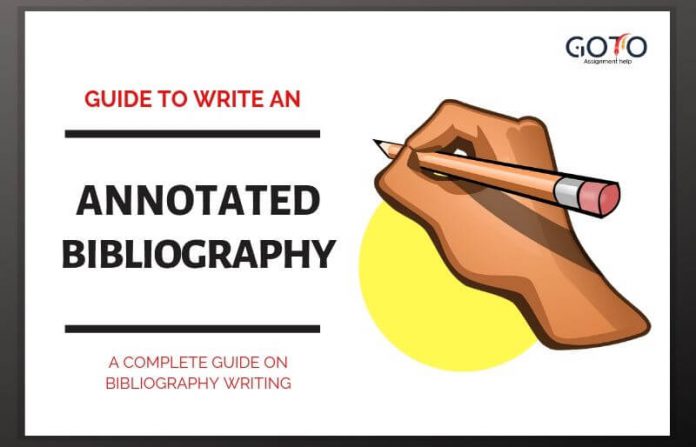 An annotated bibliography comprises of an extensive list of citations for various books, articles, documents, and other sources you are using in your research project. It may look like a reference page, but the difference lies in the annotation mentioned after each of the cited sources. An annotation is a summary or critical evaluation of the source under consideration. The motive behind writing an annotation is to keep the reader informed about the relevance, quality, and the accuracy of the sources cited and used by a researcher.
Before we delve into the concept of annotated bibliography, it is vital to understand the difference between annotations and abstract. While abstracts are descriptive summaries found at the beginning of scholarly articles, annotations are critical and explanatory. They describe the point of view of the author, authority and the clarity of expression. It is essential to remind yourself that annotated bibliographies could be a standalone report or a part of a larger research project depending on the paper you are working on.
There are two types of annotations, namely, summary and evaluative annotations. Summary annotations explain the source by describing the writer, what the document consists of, place and time of writing the document, the purpose behind producing the document and how it became public. The focus of a summary annotation is on the description.
On the other hand, an evaluative annotation consists of a summary similar to one mentioned above, but it also aims to assess the work for relevance and quality critically. An evaluative annotation not just assists you in learning about the topic but also in developing a thesis statement. Since the focus is on evaluation as well as description, an evaluative annotation helps a researcher in deciding whether a particular source will be useful and if there is sufficient information available to complete the project.
Let us now discuss the process of writing an Annotated Bibliography
You need to start with extensive analysis, concise exposition and thorough library research.
The next step is to locate and record citations to periodicals, documents, books, and other sources which you think may contain useful ideas related to your topic.
Once you are through with this, briefly examine the actual items and finally choose the works that provide you with a variety of perspectives and points of view on the topic.
Next, you need to cite the article, book or document using an appropriate style like MLA, Chicago or APA.
In the end, you are required to write a concise annotation that summarises the central argument and the scope of your work. Here you may evaluate the authority and the background of the author in one or more sentences. Commenting on the intended audience and comparing this work to others that you have cited can give you an edge over others. Additionally, you may want to explain how this source illuminates your bibliography topic.
Critically Appraising the Source
Here you may want to discuss upon the author's credentials like the institute he or she is associated with, educational background, experience in the industry and the past writings. You may also comment whether your instructor has mentioned this author or not and whether you have seen the author getting recognized in other sources or bibliographies. This is because respected authors are cited frequently by numerous scholars. You should also explain whether the source is current or out of date for the topic and whether it is the first edition of the publication or not. If a source has been revised multiple times, then it indicates that the knowledge levels have been changed, emissions have been corrected, and the text has been harmonized with intended readers' needs. You may also want to comment upon whether the information mentioned in the source is fact, propaganda or opinion and if the information is valid and well researched or is it still questionable.
While including a source in the annotated bibliography of your work, you should strive to find answers for the following questions:
Is the information useful for your assignment and does it answer the research questions you have in mind?
Is the source different from other sources or repetitive and therefore should be eliminated or not?
Is the author objective in putting forward his perspective on the topic and is the data used by the author credible?
Once you are done critically appraising the document the final step is to choose the correct citation style. As a bonus tip, keep your annotation concise. Any piece of information that is apparent from the title should be omitted, and the sentences should be written using academic vocabulary.
Annotated Bibliography Tips
An annotated bibliography is a particular type of bibliography that provides a detailed summary of each entry. The main motive of providing annotated bibliography is to inform the reader with a brief summary and an evaluation of each and every source that you have mentioned in your writing. Below we have mentioned annotated bibliography tips for your guidance; I hope it would be helpful for you.
Review the particular work before starting annotation
Accumulate necessary information regarding the topic or subject
Highlight the key source that may give interest to the readers
Acquire information from different sources like journal, books, website, magazines, articles etc.
Read the topic very minutely and then format it using paraphrasing.
How Can You Write an Annotated Bibliography Step by Step
Sometimes in our writing we need to include annotated bibliography. But there are many students who don't know how to write an annotated bibliography step by step. Below we have discussed it in detail that will give you proper information regarding annotated bibliography.
There is no short cut way of writing an annotated bibliography rather than following the basic guidelines. If you follow the steps properly, you can write an annotated bibliography by yourself without facing much trouble. The most important thing is these steps are applicable for all forms of citation.
Open a document in MS Word. You can choose the APA Style Report Template according to your needs.
Before start working on it, read the guidelines very minutely and accumulate necessary information from it. You can take help from various books, newspapers, articles, journals etc. There, if you find relevant ideas that are similar with your topics, then copy the citation and paste it in your MS Word document sheet.
Now you need to format the text that you have copied. Format the writing according to your will and try to make it as simple as that. You can change the font style and size and even keep it the same too. Arrange all the material in an alphabetical order. It helps you to find the topic.
As your formatting is done, now you need to do final touch. At the end of it add the annotations. Don't panic regarding it. There is no hard and fast rule regarding annotated bibliography writing.It totally depends on your topic. You can write it according to your own experience i.e. how a particular source has affected you to write this research, or what is its need or what is its contribution etc.
Best Annotated Writing Services in Australia
If you have trouble forming a proper annotated bibliography then we are here to assist you. We have our skilled experts who help the students in various kinds of needs. I can assure you, if you avail our services, we will never give you any scope of complaining. We provide the best annotated bibliography services in Australia. You can rely on us without any hesitation and be sure to get the best quality services from our side.
Best Annotated Bibliography Example Harvard
Each entry of annotated bibliography must follow the Harvard referencing style. In which you need to include the details of the publication with source. Harvard style of referencing does not instruct to maintain any proper direction to follow while making an annotated bibliography. Below we have enlisted an annotated bibliography example Harvard, I hope it will be helpful to use in your own writing.
For example:
Rontgen, P, Campbell, DK, Roger-Don, TCR, MP, D, CG 2000, 'Optimizing the function of human body', Royal Research Review, vol. 22, pp. 75-85.
This review identifies the studies on understanding the functions of the human body and the development of various organs with the growing age. It also includes various age-related problems that are faced by human beings for the time being. It warns human beings to restrict their intake of calories and to maintain a proper diet if they want to stay fit and healthy for a prolonged time. Although strong evidence indicates that proper diet plays a vital role to keep us healthy and fit. This article has helped me to write the research paper by giving various information regarding the biological functions of the human body.
The above guidelines will certainly help you in building a successfully adopted bibliography. If you are struggling at any stage, then you should not be afraid to seek consultation from your instructor or mentor.
If you are struggling with writing an effective annotated bibliography, then you should seek assignment help from GotoAssignmentHelp. You can trust their service for original writing, hundred percent confidentiality and timely delivery of assignments. With a student-oriented approach, you can trust our assignment experts for best in class research at affordable prices.
(Visited 1,152 times, 1 visits today)