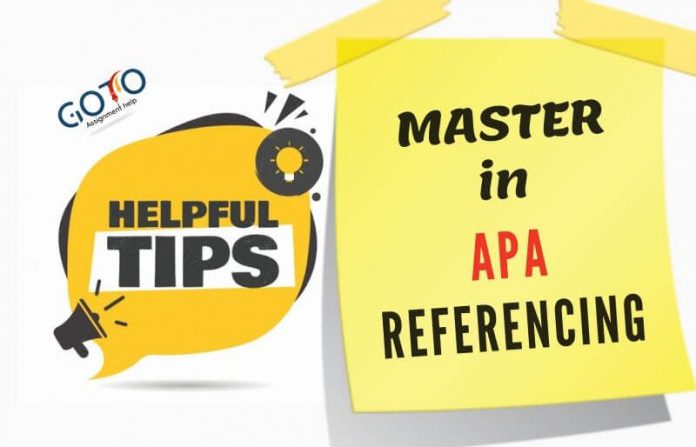 References and citations should be mentioned appropriately when you make use of another individual's work in your essay, assignment or research paper. Doing so not just helps you in acknowledging the ideas and perceptions of other researchers, but it also helps in improving the authenticity of the arguments you put forward. If you fail to give due credit and cite sources in your work, then and it could be considered plagiarism which could adversely affect your grades or lead to demotion. One of the prominent citation styles used to stay away from plagiarism is APA which stands for the American Psychological Association. APA referencing is defined as an author-date referencing system. It is inspired by the 6th edition of the publication manual of American psychological association.
Before we go deep into understanding this referencing style it is imperative to understand the difference between citation and references. Although many people use these terms synonymously, however, it is crucial to be reminded that they are different. According to APA, a citation is used in the body of a paper whereas, a reference is mentioned on the last page of your work.
Citations also referred to as in-text citations, are included in the main body of your work when you are adding information from another individual's research paper. If you use text word-for-word from another source into your research paper or take information from another source and place it in your project after paraphrasing it, then it is referred to as an in-text citation. Typically, citations are shorter in length.
On the other hand, references are found at the end of your research project. Since they are listed in alphabetical order, they tend to be longer in comparison to citations.
Let us now delve deeper into the various guidelines laid down by the APA with regards to different writing styles
When you are in the process of compiling the APA reference list, you should keep the following pointers in mind.
1. The reference should be listed on a new page with a centered heading.
2. Make sure to include all the references, irrespective of the format, in alphabetical order. Regardless of the fact whether you are referencing to books, online sources, journal articles or encyclopedia, they all should be mentioned one after the other alphabetically from A to Z.
3. The entries having no author name should be listed using the first significant word in the title.
4. You should indent the subsequent lines for each entry.
5. Using double spacing is a wise option while making your APA reference list.
6. It is imperative to remind yourself that all references should end with a full stop, except, website URLs.
When you are preparing a reference list for your journal, it should contain the following.
1. The name of the author(s) wherein the initials follow the surname.
2. The year of publication of the research paper.
3. The title or topic of the article.
4. The topic of the journal (in italics).
5. Journal volume (in italics).
6. Date of issue of the journal.
7. Range of pages referred to in your project.
8. DOI.
APA referencing style is also used for citing tables and figures. Tables are nothing but numerical values or systematic arrangement of text arranged in rows and columns. Figures include drawings, photographs, charts, graphs, maps, etc. The rules for citing tables, graphics and images are as follows.
1. All the illustrations should be referred to in the main body of the essay or the paper.
2. All the tables and figures should be numbered in the order in which they first appear in the text.
3. You may want to refer to the illustrations in the main text using their unique number. Example: "As mentioned in table 2."
4. Every figure or table should be followed by a short and concise description of the contents. If you want to reproduce a figure or table from another source, then you should keep in mind to include a citation along with the caption. This caption should be mentioned in the reference list as well.
5. You may also be required to attain written permission from the copyright holder. The copyright details should be mentioned at the end of the caption. Many authors also use the phrase "reprinted with permission" only when the permission has been granted.
Quotations having less than 40 words should be incorporated into the text and enclosed with double quotation marks. However, for quotes having 40 or more words, you need to start a new paragraph intended from the left. Although APA discourages the use of secondary sources in your paper or project, but you are free to mention it in your reference list.
The above APA referencing guide will certainly help you in making a comprehensive list of citations and references to produce highest quality projects with zero plagiarism and credible information. All you are required to do now is get going!
If you are new to APA referencing, then you should seek professional assignment help from gotoassignmenthelp.com. Their team of industry assignment experts works around the clock to help you with assignments that are free from plagiarism and backed by authentic data sources. If you are searching for best assistance at pocket-friendly prices, then GotoAssignmentHelp is the place to be!
(Visited 390 times, 1 visits today)